In contact komen met uw medewerkers door het versturen van berichten. U kunt om meerdere redenen berichten versturen naar uw medewerkers. Denk bijvoorbeeld aan het meedelen van een nieuwe actie, controle, veiligheidsbeleid. Al de zakelijke communicatie kunt u via uw systeem doen. Zo zullen de berichten ook waarde blijven behouden .
Eerst gaat u naar het berichtensysteem. U klikt hiervoor links in het menu op 'Berichten'.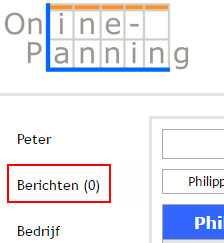 Om een nieuw bericht te maken klikt u bovenaan op 'Nieuw'.  U ziet nu het scherm om een nieuw bericht te versturen: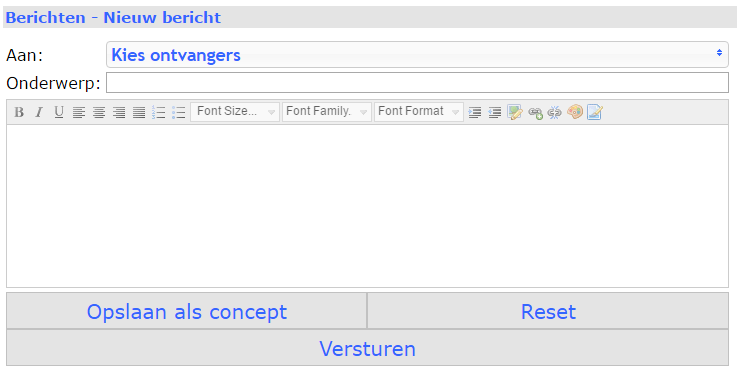 Bij 'Aan' kiest u naar wie u het bericht wenst te verzenden. Vul bij 'Onderwerp' het gewenste onderwerp in. Vervolgens kunt u het bericht vullen.  Met behulp van de ingebouwde basis tekstverwerker kunt u ook linken naar afbeeldingen of andere externe bestanden. Upload van uw bestanden naar het Online-Planning systeem is wegens veiligheidsoverwegingen niet mogelijk.

U kunt uw inbox en uitbox filteren op enkel alle gelezen of enkel alle ongelezen berichten. Indien u op de tekst 'Ongelezen' klikt, zal de box enkel de berichten tonen die nog niet gelezen zijn. Klikt u nu terug op 'Ongelezen', krijgt u alle berichten weer te zien. Indien u op 'Gelezen' klikt zullen enkel de gelezen berichten getoond worden. Klikt u nogmaals op 'Gelezen', krijgt u alle berichten weer te zien.