Het werk rooster van de huidige week is het eerste scherm wat u ziet. Dit is waar het allemaal om draait, u kunt per dag zien wie van hoe laat tot hoe laat moet werken.
Rechts bovenaan is een vak met daarin de loonkosten weergegeven, deze kleurt op aan de hand van uw planning. Zit u boven uw begroot budget dan wordt het vak rood. Zit u op budget dan kleurt het vak groen. Hiermee kunt u dus snel en eenvoudig sturen op de kosten van uw personeelsplanning.
In het rooster is te zien of personeel wat ingepland staat nog verlof heeft aangevraagd (oranje), verlof(rood) toegewezen heeft gekregen of verzuim(geel) heeft.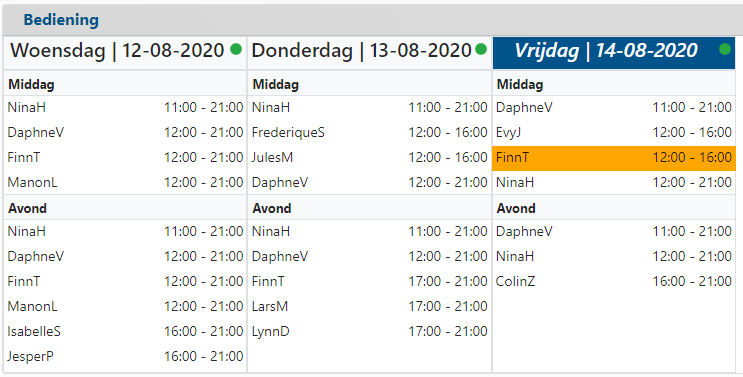 Rooster maken
Een rooster maken is eenvoudig, door op een dag te klikken opent een nieuw scherm waarin de zojuist aangeklikte dag aangepast kan worden. Het planscherm is opgebouwd uit 4 delen, het ingeplande personeel, beschikbaar personeel, niet beschikbaar personeel (inclusief waarom niet beschikbaar) en een overzicht met daarin de kosten en uren. Door dit overzicht ziet u snel wie wanneer wel of juist niet beschikbaar is.
Ingepland
Hierin staan de medewerkers die ingepland zijn, voor welke tijden en wat de personeelskosten voor deze medewerker zijn. Omdat alles in 1 opslag inzichtelijk is, kunt u direct beginnen met het besparen van loonkosten.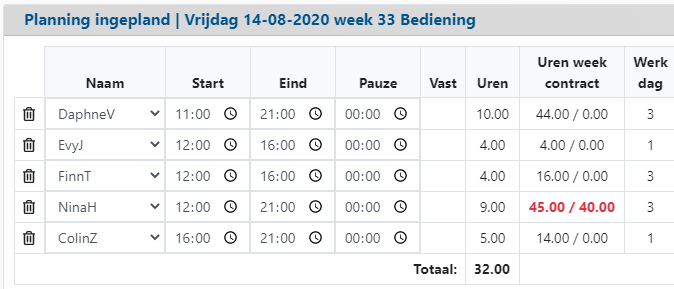 Beschikbaar
Bij beschikbaar staat vermeld welke medewerker beschikbaar is, hoeveel deze medewerker al is ingepland en wat de eventuele kosten zijn. Hierdoor kunt u tijdens het inplannen iedereen zo efficiënt mogelijk inplannen waardoor geen kostbare contracturen verloren gaan.
Niet beschikbaar
Het deel niet beschikbaar bestaat uit 4 delen:
Niet beschikbaar ivm vakantieuren. Medewerkers met een verlofaanvraag of een verlof toewijzingen.
Niet beschikbaar ivm verzuim. Medewerkers die met verzuim zijn.
Niet beschikbaar ivm elders gepland
Medewerkers die al op een andere afdeling zijn ingepland worden in de laatste kolom weergegeven. Doordat deze ook gemarkeerd zijn als niet beschikbaar kunnen deze tijdens het rooster maken ook niet op dezelfde tijd ergens anders worden ingepland. Ondanks dat ze al ingepland staan, kunnen deze wel op andere tijden op de dezelfde dag ingepland worden.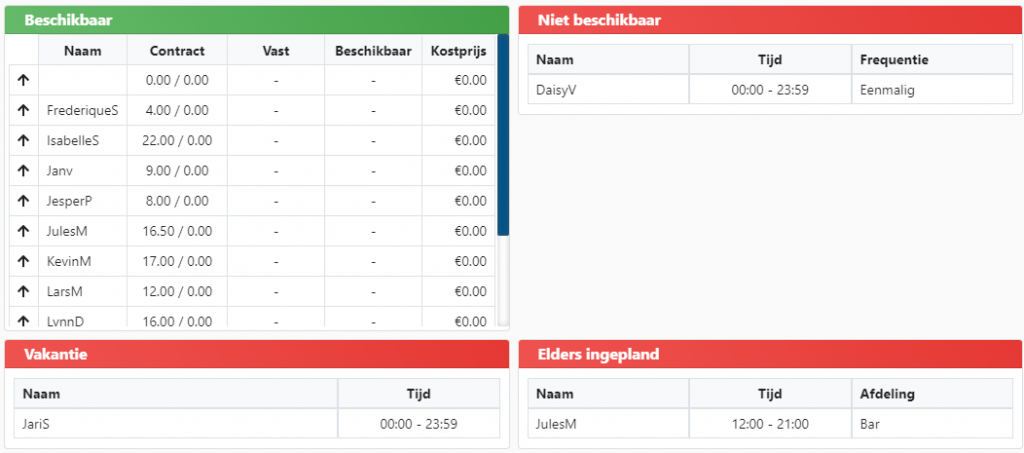 Totalen
Stuur op de loonkosten of de ingezette uren. Tijdens het plannen ziet u de realisatie ten opzichte van de begroting hierdoor stuurt u niet meer achteraf op de verloning, maar juist vooraf!