In 3 snelle stappen besparen op de loonkosten, het lijkt haast wel onmogelijk te klinken? Niets is echter minder waar! Met de laatste update van Online-planning kunt u dit zeer eenvoudig bereiken. In dit artikel leest u er meer over.
Beginnen met besparen op de loonkosten in 3 snelle stappen:
Het is zeer eenvoudig, om te beginnen klikt u in uw systeem op het onderstaand rood gemarkeerde vak: 
Vervolgens ziet u een scherm waar u de omzet van uw bedrijf per week en per jaar kunt invoeren.
U kunt dit opslaan door de 'Enter' toets in te drukken of onderaan op 'Opslaan' te klikken.Na het opslaan ontvangt u een bevestiging in de meldingen balk dat de gegevens succesvol zijn opgeslagen.
Klik nu terug op het logo links bovenaan om terug naar het hoofdscherm te gaan.
Eenmaal terug in het hoofdscherm ziet u vervolgens dat de 'Arbeidsproductiviteit' en de 'Loonkosten tov omzet' gevuld zullen zijn.
U kunt hier met uw muis over navigeren voor meer informatie:

Zoals u kunt zien wordt hier eenvoudig uitgelegd waar de waarde op gebaseerd is.
Dit geldt uiteraard ook voor de overige 2 velden:
Ziet het er anders uit als hierboven weergegeven? Dit kan verholpen worden door op de 'F5' toets te drukken.
Omzet grafisch weergeven van meerdere jaren
Door het invoeren van uw omzet kunt u automatisch grafisch het verloop van uw omzet inkijken. De grafiek is terug te vinden onderaan het scherm waar u de omzet kunt invullen. Met uw muis kunt u navigeren over de grafiek lijnen voor meer informatie.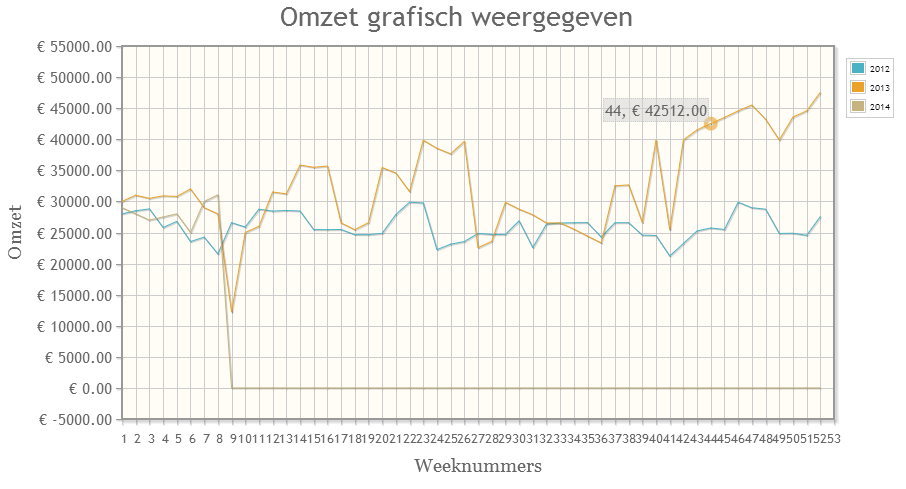 Ziet u hier geen grafiek? Zorg en dan voor dat uw browser up to date is. Wij raden een HTML5 compatible browser aan als b.v. Chrome.
Geen applicatie, maar toch nieuwsgierig naar ons product? Bekijk het snel op: https://demoalgemeen.online-planning.nl/
Inloggen kan met de gebruikersnaam: demo
en wachtwoord: Demo13!