Verlof aanvragen gaat eenvoudig met Online Planning. Nadat een medewerker een verlofaanvraag heeft ingediend wordt deze door een planner beoordeeld en automatisch verwerkt in de planning. Geen gedoe met kwijtgeraakte verlofbriefjes of dubbele aanvragen. Het systeem houdt het verlofsaldo nauwkeurig bij, dus hebben medewerkers zelf inzicht in hun restanturen.
AANVRAGEN
De medewerker kan zelf een vakantie aanvragen via de app of de reguliere web omgeving, dit scheelt u dus een hoop communicatieverkeer.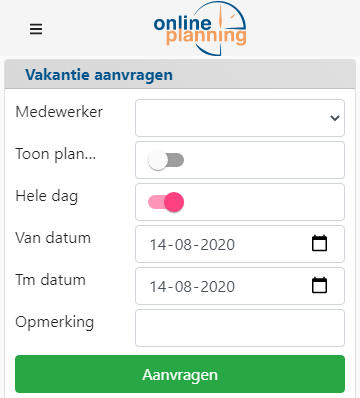 BEOORDELEN
Een aanvraag gaat pas door zodra de aanvraag is goedgekeurd. Geef tijdens het beoordelen optioneel een opmerking mee, zodat u uw medewerker direct op de hoogte is.
Na het beoordelen ontvangt de medewerker automatisch een bericht, zo is de medewerker altijd op de hoogte of zijn/haar vrije dag nog door gaat.

WEERGAVE IN WEEKPLANNING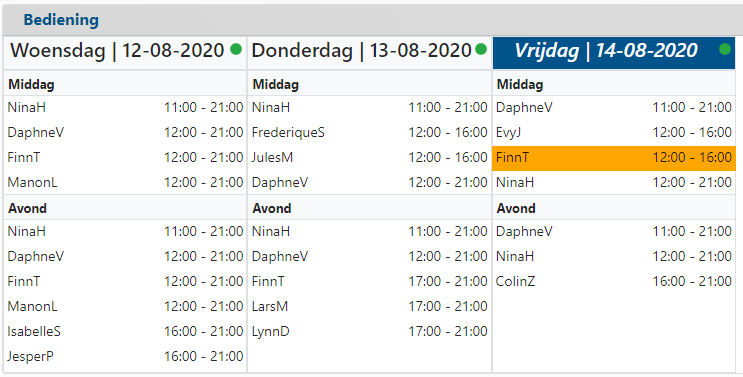 VERMELDING IN PLANNING MAKEN SCHERM
Indien er tijdens het plannen toch al een vakantie aanvraag in staat, krijgt u hier gelijk een waarschuwing van. Voorkom hiermee teleurstelling voor zowel uzelf als de medewerker.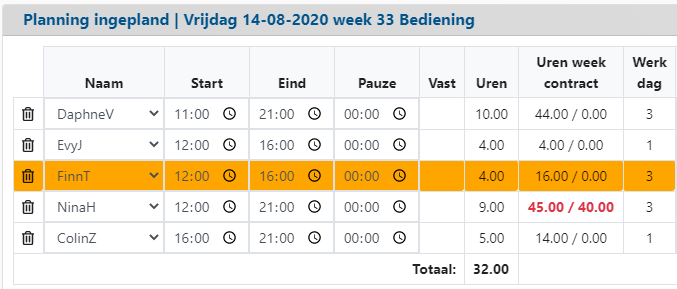 VERLOF AANVRAGEN JAAROVERZICHT
Met name in de zomermaanden komen er veel verlof aanvragen binnen, om deze goed te kunnen beoordelen is hiervoor een grafische weergave van op te vragen. Dankzij dit overzicht wordt snel overzichtelijk wie wanneer verlof heeft (rood) en welke verlof aanvragen nog open staan (oranje). Voorkom hiermee dat iedereen tegelijk op vakantie gaat en u zonder personeel komt te zitten!